Themewars–Personal wordpress template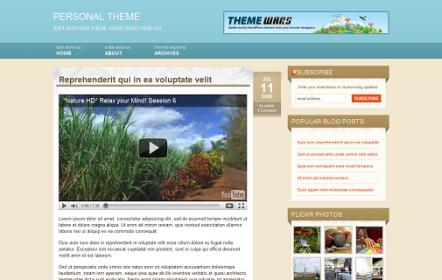 Personal theme is perfect for the personal blogger who wants to take their look and feel to the next level.
Through the use of an effective, content-driven layout, your readers will be able to focus on all of the great posts you're making.   Emphasis has been placed on the author of the blog, as a placeholder for a photo has been made for the "about" widget.  The Theme Wars Personal Blog Theme also comes equipped with easy Twitter integration, along with many other social networks and news sites.
Demo         :  http://demo.themewars.com/personal-theme/
Download  :  http://www.mediafire.com/?hwvjayz5bws2vbf
Posted on Tuesday, November 30th, 2010 at 5:35 am | Category: Wordpress Themes |