Web form has emerged out as one of the most widely discussed aspects of web designing for over a decade now. It is a multifunctional application that can be used for numerous purposes ranging from registration and subscription to online purchases.
Though, creating a simple web form in HTML is quite simple and easy but it is not enough. A web form is to be coded and designed so that it can be easily accessed, understood and used by the users. To help you with the coding and designing of viable and user-friendly web forms, we present to you some tips through which you may be able to create web forms offering better utility and can prove to more effective for website conversion and success rates.

Use of Columns
When designing a web form it is crucial that you decide whether it will be better to use a one column layout or a two column layout. This decision is primarily made on the basis of the content of the web form, but it is advised that you use a simple one column layout in most of the cases. Even while using a CSS form generator such as this one, keep in mind to align the form elements in a sensible manner.
Not only using a one column layout provides more space in the form labels which make it easy to alter the content in the future if required, but as it has a simple and uncluttered layout, it is also easier to understand and users can effortlessly relate the fields to their associated labels.
Inline Form Validation
It is suggested that you make use of inline form validation when designing and coding a web form as it leads to less chances of errors by the participants. Also, it has been observed that web forms which make use of inline form validation are filled faster and users are more comfortable using such forms. Using a Javascript form validation library makes it easy to add validations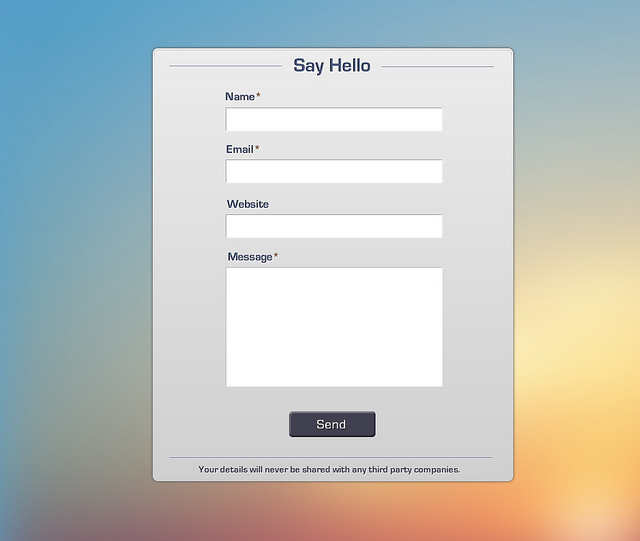 Clearly Indicate Required Fields
It is a common to practice to signify required field by making these with an asterisk in a distinguished colour than the content of the web form. However, when using asterisk as an indication for required fields, it is necessary to ensure that you are using it properly.
Mention the purpose of asterisk right on the top of the web form so that the users are made aware of the reason for its use before they begin to fill out the form.
Stylise Select Elements, Check Boxes and Radio Buttons
Styling options for select elements, checkboxes and radio buttons are very limited in browsers. Moreover, use of CSS only, to make these elements appear uniform in styling in all the browsers is an impossible task to achieve. However, there are various plug-ins and codes available that the designers and coders might consider using to add more vibrancy and diversity, as well as, visual appeal to the design of their web forms.
Make Abundant Use of White Space
You are advised to make proper use of white space to present a web form that is uncluttered, clear and easily understandable.
Image credits: Matthew Smith , elemisdesign