CSShunt is the most frequent updated css inspiration gallery and logo inspiration gallery.which shows best css websites,logo inspirations,More of that it acts as a portal, so, besides a link to your website we post your description, keywords and title. you can submit your best website (and we encourage that), we verify it and post it in less than 24 hours. csshunt have more different section about some other inspirations as Graphic Design gallery, Designer's Inspiration work with some other cool stuff like freebies ,Web design and development related Articles,Web Design and Web Development Resources.so checkout our updated css inspiration gallery,logo inspiration gallery daily and don't forget to left your suggestions.
Work of Designer & Illustrator Joe Bauldoff

Here i have just decide that to show cool designers and Illustrator work on my site that would be very helpful for the designers to show there work many of peoples so i have start from 
Joe Bauldoff's
work. I'm really liking Joe's work. developed style, Beautiful illustrations, and lovely  typography. Here more about Joe from
his site
:
About Joe Bauldoff

Raised in the western Pennsylvania foothills by a pack of German descendants, Joe aquired a near-obsessive interest in visual design at an early age. He would often spend time developing fictitious publisher logos and faux bar codes for his hand-drawn picture books, while gaining the respect of his early grade-school peers with pro-bono illustrations of He-Man and Atari characters. Throughout the 80's, he was introduced to creative programs like MacPaint and Hypercard. Since then, things really haven't ever been the same.
After graduating from design school in 1998, Joe has worked in several agencies and in-house creative departments along the east coast, and assists personal clients from all around.
While seeking interesting opportunities in full-time employment, Joe continues to work as an independent graphic designer in North Carolina, and would love to help you with your next creative project.
Joe curates the Hello Bauldoff design blog, where he posts items that attract his attention. He is the proud father of three rock-em-sock-em sons and a beautiful daughter.
Big Papi's Salsa Splash Page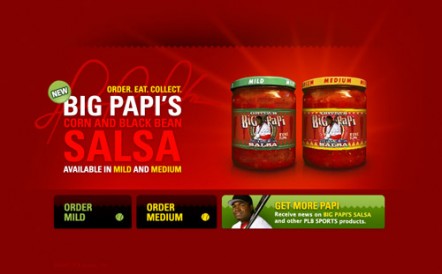 A Field Guide to Big & Rich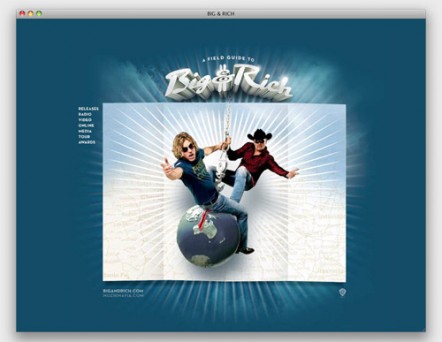 Dare to be a Daniel Tees
The Euronaut
Greater Gaston Celebration Poster
Gunugan I
MA PA VA
iCue EPM
Inner Harmony Identity
Pecific Northwest Festival Poster
Tokyo
Posted on Saturday, February 19th, 2011 at 3:11 pm | Category: Designers Work |